Synopsis
[
]
Carrie enjoys a weekend at the beach house in the Hamptons of an ideal couple, her friend Patience and her husband Peter, but in the morning he greets her in nothing but a revealingly short T-shirt. She tells Patience that she saw her husband naked, and she is promptly rushed back to Manhattan by a threatened Patience. The girls feel married people either consider singles competitors for their spouses or pity them. Stanford adds it's getting the same with gay couples; his friends Joe and Lou ask Carrie to become their egg-donor. At her law firm's softball game, Miranda is teamed up with Syd, a single lesbian, and they play good enough for both to be invited at senior partner Chip's house party: apparently even a presumed lesbian couple is more acceptable then singles- indeed the truth puts her out again. The dinner goes very well, but Miranda decides to tell Chip the truth that she's not a lesbian, just single. She then laments her attraction to men.
Carrie starts casually dating her friend's kind, businessman friend Sean, who is nice but a little vanilla. After a few dates to the movies, Carrie attends Sean's housewarming party and is horrified when almost all of the other guests are married couples. When Samantha and Charlotte arrive, Samantha realizes that she's slept with two of the husbands who are at the party (she was unaware they were married) and starts downing
tequila shots. Patience and Peter arrive and Carrie awkwardly attempts to avoid any discussion of what happened in the Hamptons, but a very drunk Samantha realizes who Peter is and starts laughing hysterically, which angers Patience. They quickly leave, with Charlotte insisting on taking Samantha home and sleeping on her couch. In the middle of the night, a still-drunk Samantha sneaks down in only her underwear and seduces her young Irish doorman, Tommy.
When Sean asks Carrie to spend the night after the party, she declines, and ends things with him. He reveals that he desperately wants to get married, so Carrie fixes him up with Charlotte. They go on a few successful dates, but after picking out clashing china patterns at a department store, Charlotte ends things with him too.
The final scene shows the four friends meeting for a movie, with Carrie admitting that even though being single can be tough, sometimes there's nothing better than a night out with your girlfriends.
Trivia
[
]
The title is a reference to the failed Bay of Pigs operation in Cuba.
At the end of the episode, the girls are at the movies and a poster can be seen for the 1998 monster film "Godzilla", which stars Sarah Jessica Parker's husband, Matthew Broderick.
Cast
[
]
Jennifer Guthrie as Patience
David Healey as Peter
Joanna Adler as Syd
Karl Geary as Tommy, the doorman
Gallery
[
]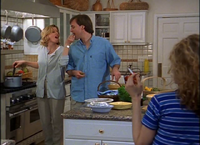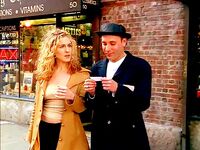 Sex and the City Season 1
• Sex and the City (episode) • Models and Mortals • Bay of Married Pigs • Valley of the Twenty-Something Guys • The Power of Female Sex • Secret Sex • The Monogamists • Three's a Crowd • The Turtle and the Hare • The Baby Shower • The Drought • Oh Come All Ye Faithful •
Sex and the City Season 2
• Take Me Out to the Ball Game • The Awful Truth • The Freak Show • They Shoot Single People, Don't They? • Four Women and a Funeral • The Cheating Curve • The Chicken Dance • The Man, the Myth, the Viagra • Old Dogs, New Dicks • The Caste System • Evolution • La Douleur Exquise! • Games People Play • The Fuck Buddy • Shortcomings • Was It Good for You? • Twenty-Something Girls vs. Thirty-Something Women • Ex and the City •
Sex and the City Season 3
• Where There's Smoke... • Politically Erect • Attack of the Five Foot Ten Woman • Boy, Girl, Boy, Girl... • No Ifs, Ands, or Butts • Are We Sluts? • Drama Queens • The Big Time • Easy Come, Easy Go • All or Nothing • Running with Scissors • Don't Ask, Don't Tell • Escape from New York • Sex and Another City • Hot Child in the City • Frenemies • What Goes Around Comes Around • Cock a Doodle Do! •
Sex and the City Season 4
• The Agony and the 'Ex'-tacy • The Real Me • Defining Moments • What's Sex Got to Do with It? • Ghost Town • Baby, Talk Is Cheap • Time and Punishment • My Motherboard, My Self • Sex and the Country • Belles of the Balls • Coulda, Woulda, Shoulda • Just Say Yes • The Good Fight • All That Glitters... • Change of a Dress • Ring a Ding Ding • A Vogue Idea • I Heart NY •
Sex and the City Season 5
• Anchors Away • Unoriginal Sin • Luck Be an Old Lady • Cover Girl • Plus One Is the Loneliest Number • Critical Condition • The Big Journey • I Love a Charade •
Sex and the City Season 6
• To Market, to Market • Great Sexpectations • The Perfect Present • Pick-A-Little, Talk-A-Little • Lights, Camera, Relationship • Hop, Skip, and a Week • The Post-it Always Sticks Twice • The Catch • A Woman's Right to Shoes • Boy, Interrupted • The Domino Effect • One • Let There Be Light • The Ick Factor • Catch-38 • Out of the Frying Pan • The Cold War • Splat! • An American Girl in Paris: Part Une • An American Girl in Paris: Part Deux •
Sex and the City films
• Sex and the City (film) • Sex and the City 2 •
And Just Like That...
• Hello, It's Me • Little Black Dress • When in Rome • Some of My Best Friends • Tragically Hip • Diwali • Sex and the Widow • Bewitched, Bothered and Bewildered • No Strings Attached • Seeing the Light •
The Carrie Diaries Season 1
• Pilot • Lie with Me • Read Before Use • Fright Night • Dangerous Territory • Endgame • Caught • Hush Hush • The Great Unknown • The Long and Winding Road Not Taken • Identity Crisis • A First Time for Everything • Kiss Yesterday Goodbye •
The Carrie Diaries Season 2
• Win Some, Lose Some • Express Yourself • Strings Attached • Borderline • Too Close for Comfort • The Safety Dance • I Heard a Rumor • The Second Time Around • Under Pressure • Date Expectations • Hungry Like the Wolf • This Is the Time • Run to You •
See also: Episodes