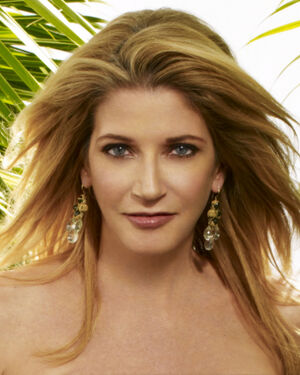 Biography
[
]
Candace Bushnell (1 December 1958) is an American author and columnist based in New York City. She is best known for writing a column that was anthologized in a book, Sex and the City, which in turn became the basis for an immensely popular television series and its subsequent film adaptation.
Personal life
[
]
Bushnell was born in Glastonbury, Connecticut. While attending high school there, she was accompanied to her senior prom by Mike O'Meara, now a nationally syndicated radio host. She attended Rice University and New York University in the 1970s, and became known in New York City as a socialite and party-goer. She often frequented Studio 54. In 2002, Bushnell married Charles Askegard, a principal dancer with the New York City Ballet. By Bob Morris, The New York Times, July 7, 2002. They live in Manhattan.
Career
[
]
At age 19, Bushnell moved to New York City and sold a children's story to Simon & Schuster, which was never published. She continued writing and worked as a freelance journalist for various publications, struggling to make ends meet for many years. Bushnell began writing for the "New York Observer" in 1993. She created a humorous column for the paper, which appeared from 1994 through 1996. Called "Sex and the City", the column was based on her own personal dating experiences and those of her friends. In 1997, Bushnell's columns were published in an anthology, also called "Sex and the City", and soon after became the basis for the popular HBO television series sharing the same name. The series aired from 1998 through 2004, and starred Sarah Jessica Parker as Carrie Bradshaw, a sex and lifestyles columnist partaking in and enjoying New York City nightlife, a character which Bushnell has stated was her alter ego. The series is now in syndication and was adapted for and made into a motion picture, released in 2008.
In 2005, Bushnell served as one of 3 judges for the reality television show "Wickedly Perfect" on CBS. Bushnell began hosting a live weekly talk show on Sirius Satellite Radio in 2007. The show, called "Sex, Success, and Sensibility", was canceled in late 2008 after the merger of Sirius and XM Satellite Radio, when Bushnell was asked to continue the show with a 50% pay cut and refused.
NBC's 2008 television series Lipstick Jungle, starring Brooke Shields, was adapted from Bushnell's 2005 novel of the same name. The series aired in 2008 and was canceled after 20 episodes. In 2009, Bushnell announced a partnership with the magazine publisher Meredith Corporation's Meredith 360 division, for which she will write several "webisodes" of an online comedic series about women over 40 dealing with workplace issues. The deal includes writing articles for Meredith's More magazine.
Bushnell was contracted by HarperCollins in 2008 to write a series of two books for young adults, which will focus on the high school years of the Sex and the City character Carrie Bradshaw. The first of these is set to be published in 2010.
Bibliography
[
]
"Sex and the City" (1997)
"Four Blondes" (2001)
"Trading Up" (2003)
"Lipstick Jungle" (2005)
"One Fifth Avenue" (2008)
External links
[
]