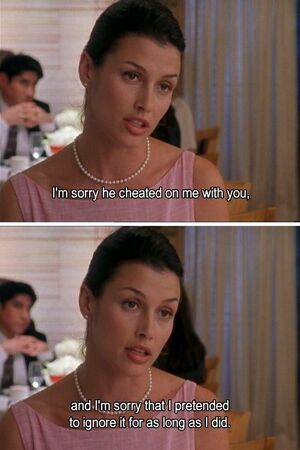 Biography
Edit
Natasha Naginsky, played by actress Bridget Moynahan, first stepped onto the Sex and the City scene during season two where she played Mr. Big's second wife.
Fans of the hit show were left heartbroken when Carrie Bradshaw's ex Mr Big chose the gorgeous Natasha over her in the iconic scene. The star also made a return to the show when Carrie and Mr Big began having an affair behind Natasha's back. 
In a heartbreaking scene when Natasha and Carrie meet after the ordeal comes out, the actress delivers the killer line: "I'm sorry that we ever got married. I'm sorry he cheated on me with you and I'm sorry I tried to ignore it for as long as I did."
If you look closely, you will notice that Natasha, Big's wife, is always wearing white. Up until the very end of her storyline, she was specifically in white to convey that her personality was "vanilla."